Who We Are
The Hamilton English Country Dancers was formed in 2007 by Les Francey and it held dances most Thursdays at the Dundas Memorial Community Centre. Les frequently shared the calling with long-time English Country dancer Lynn Macintyre. Now he and Tara Bolker alternate leading the dances each week. HECD currently dances every Thursday evening at Melrose United Church in Hamilton. Read more about the history of American and English Country Dancing in Hamilton, Ontario in this CDSS article written by Les Francey, Tara Bolker and Ben Bolker.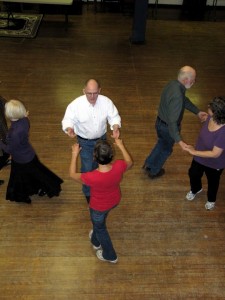 Hamilton English Country Dancers enjoy live music every week and dancing to guest callers whenever possible.
Officers and Other Volunteers:
President – Tara Bolker
Treasurer – Stewart Patch
Programming – Tara Bolker
Social Festivities – Cheryl Ennals and Kathy Renison
Mailing List – Peter Ennals
Promotions –
Web Admin – Angela Andersson
Read more about our weekly callers and about the guest callers who have called for HECD in the past.
What about live music?
Hamilton English Country Dancers aims to have live music as often as possible.  Here are some of the musicians who have played for us.